CasablancaBox was produced at the HERE Arts Center in March and April 2017. It was Lynn's first time working with the inspiring and prolific couple, Sarah and Reid Farrington. The play followed the lives of the director, writers and actors, many refugees, onset during the shooting of the classic film. Through brilliant use of projections designed by Reid and words humanely, elegantly and humorously crafted by Sarah, C'box told the story of immigrants and artists in the wake of World War II.
"CasablancaBox is no vanilla tribute to the safest member of the American movie canon. Rather, it embodies its subject through design and theme, cramming together as much energy and detail as its running time permits, in the end mirroring Casablanca as an overfull steamer trunk forced shut under protest, ever on the point of bursting apart."
-The Village Voice
Journey to the West, by Mary Zimmerman, was produced by the Nora Theater Company at Central Square Theater in December 2016. Lynn was thrilled to rejoin director Lee Mikeska Gardner for this energetic and exciting exploration of Chinese folklore. It was a chance to blend her love of character work with th demanding physicality required of the role.
"Lynn R. Guerra ... brings avidity and athleticism to her portrayal of a manic, mischievous Monkey King who is alternately defiant and eager to please."
-Don Aucoin, The Boston Globe
"... the Monkey King, winningly played by Guerra as a bundle of comic energy ... "
-Richard Fahey, On Boston Stages
"...the production's most impressive star is dancer/actor Lynn R. Guerra. Her Monkey King is a fully realized, hilariously dynamic character who is amusing to watch from beginning to end."
-Kamela Dolinova, ArtsFuse
Her Aching Heart, by Bryony Lavery, was produced by the Nora Theater Company at Central Square Theater, and was Lee Mikenska Gardners directorial debut as Artistic director of the company in 2014.
Lynn will forever remember this show as one of her most challenging and rewarding experiences on stage. Taking part in a two-woman show, were she was either on-stage performing as one of four characters, or backstage removing one corset only to squeeze herself into another, this show stretched Guerra and tested the limits of her endurance. It was an absolute roller-coaster every time, and working with Lee Mikeska Gardner was a dream.
"Guerra's versatility and comedic talent shine."
-The Theater Mirror
"Guerra's Lady Harriet is arch and patronizing, her Granny palsied, her Joshua dimwitted; she also does a mean Madame Defarge in the shadow of the guillotine."
-The Boston Globe
"A treat to watch. Guerra does a remarkably convincing job of inhabiting the disciplined yet willful body of a Romantic-era aristocrat... [she] undergoes an astonishing physical transformation to Granny, a witchy crone; watching the play I thought for a moment that a third actor had appeared on stage. It is delightful to be fooled so expertly."
-The Arts Fuse
"Guerra is picture perfect for this role, combining a kind of regal beauty with lithe movement (she's a trained dancer and it shows) and appears to have been born for this role.... the characters they adopt are hysterical - particularly Guerra's insanely over-the-top shaky Grandmother"
-Boston Events Insider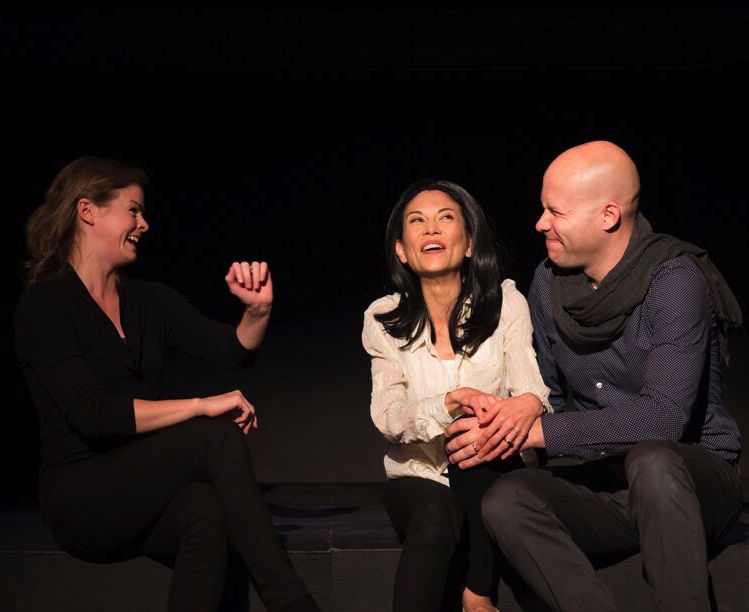 Ghostlight: The Haunting, by Carol Sorgenfrei, was produced in 2015 at the Barrow Group Theater by La Luna Productions and was Lynn's first professional show in NYC, working with Emmy award winning director Penny Bergman. Blending Shakespeare's MacBeth with plot elements from the kabuki Yotsuya Kaidan (Yotsuya Ghost Tales), Ghostlight took on themes of celebrity, love and betrayal, jealousy and revenge.
"LYNN R. GUERRA has a fantastic comic turn as a spectacularly vapid talk show host and also gets to show off some smooth combat skills as a kickboxing instructor."
-www.screamqueenz.com
Neighborhood Watch was produced at the Boston Center for the Arts by Zeitgeist Stage Company in 2013. It was Lynn's first time working with the Award winning company and director David J. Miller.
The role of Magda gave Lynn her second IRNE nomination and first win for Best Supporting Actress.
"Her hands balled into fists, her eyes wide and scared, Guerra is a poignant Magda, especially when the character discloses a disturbing secret about her past to Hilda and Dorothy."
-The Boston Globe
The Lieutenant of Inishmore
The Lieutenant of Inishmore, by Martin McDonagh was produced by the New Rep Theater at the Mosesian Center for the Arts in 2008, by one of Guerra's favorite directors, David R. Gammons.
Playing Mairead earned Lynn her first IRNE nomination for Best Supporting Actress, and is, to date, one of her favorite roles to have played. Mairead is petulant and demanding, alternately hot-blooded, warm, and cool-as-a-cucumber. This production afforded Guerra the chance to be shot by a corn syrup blood cannon on a nightly basis, which is likely, a unique career experience.
"In the uniformly excellent cast, Colin Hamell stands out; so too does Lynn R. Guerra as Mairead, the sharpshooting tomboy who idolizes him."
- The Boston Globe
"Director David R. Gammons' cast is perfection....The only person glad to see him is an idealistic sixteen year old (a glowing Lynn R. Guerra) who longs to join up with him to fight the British."
-The Theatre Mirror
"As the only woman in the cast, Lynn R. Guerra (Mairead) does an amazing job of injecting a dose of sexuality and passion into the mix. She evolves from an adolescent girl in combat boots who shoots out the eyes of cows as an econo-political statement to a take-charge young woman in love and second to the lieutenant. Her chemistry with Hamell is highly toxic, especially when she clings to him in a series of ballet-like poses during the critical gunfight."
-Broadway World
Imaginary Beasts
"the best among them: Lynn R. Guerra as Ascagne, a woman disguised as a man; she has all the verve and spark of a young Katharine Hepburn–even looks a little like her."
-Joyce's Choices
"Special mention, however, must go to Lynn R. Guerra's loose-limbed Beast debut as the acrobatic Ascagne (I'm always impressed with Guerra, who has long been a leading light on the fringe, but I think she may have been born to play commedia."
- The Hub Review
by Edward Albee, Exquisite Corps
"the best performances by far come from the smart, sexy (and mighty buff) Zachary Eisenstadt, and especially the lovely, touchingly tentative Lynn R. Guerra, as the existentially star-crossed Boy and Girl."
-The Hub Review
"Guerra('s)... lithe manner when moving about the stage and her posture when still are informed by her dance background, revealing the delicacy and fragility of Girl.... Her display of fear and sorrow is heartbreaking."
-Broadwayworld.com
"Lynn R. Guerra, as the girl, steals the show and hearts with her playful and delicate performance."
- New England Theater Geek